Location
Contact Information:
Carol Curry
Phone:
(509) 521-1100
Email Carol at:

Facility Address (not mailing address!):
TulipSprings
31807 South Carlson Road
Kennewick, WA 99337
Mailing address (not facility address!):
Carol Curry
412 East Canyon Dr.
Kennewick, WA 99337
E-mail Notices
Would you like to be notified of course development, facility availability, and events schedules? To receive Tulipsprings e-mail notices, send your request to:
We'll send you a return e-mail to verify the request.
Privacy Policy: We will never give your email address to anyone else, and you will be removed from the list at your request.
Local Lodging:
Farmhouse
Available on site for overnight lodging.
Call (509) 521-1100 to reserve.
Note: No dogs allowed in Farmhouse.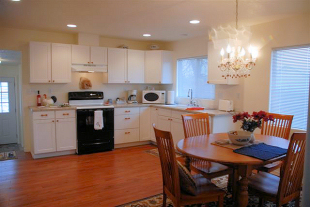 Farmhouse Kitchen
Bunkhouse
Just a simple converted stall. Insulated, heated, one window. One bunkbed (2 mattresses) plus one twin mattress for the floor. No plumbing. Bring your own bedding. But CHEAP!!
Note: No dogs allowed in Bunkhouse.
Closest hotel (10 minutes):
Clover Island Inn
435 Clover Island Drive
Kennewick, WA 99337
(509) 586-0541
Request the Tulipsprings rate when making your reservations.