About the Clinicians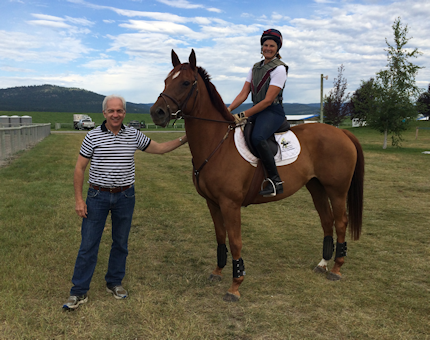 Ian with Rosie
Tulipsprings is proud to attract world class clinicians. Beginners through 3-star riders can find effective coaching in our spectrum of clinic offerings. Check the Calendar page to see who is on the upcoming schedule.
Mogie Bearden-Muller

Mogie Bearden-Mueller is a successful 3-star competitor and also coaches several 3-star students. She is a certified USEA ICP-III level instructor and a USEF "r" certified course designer. In 2009, Mogie moved Foxhill Eventing from Northern California to Centreville, Maryland where she is successfully competing, coaching, course designing, and training.

More about Mogie

Buck Davidson

Ranked in the top 5 US riders and top 10 International riders for several recent years, Buck is an excellent teacher, combining confidence building exercises with "go for it" enthusiasm.

More about Buck

Peter Gray

Peter Gray is an International competitor and coach, with years of experience on the World stage. His competition successes include three Olympic Games, two World Equestrian Games, Badminton and Burghley, and a Bronze Medal at the PanAm Games. He was the Canadian National Coach from 1996-2000. His extensive experience coaching, training, and judging bring a unique and valuable quality to his clinics.

More about Peter's clinics

Leslie Law

Leslie is the Athens Olympics Three Day Eventing individual champion and team silver medalist. Known for his consistency, Law has a string of successes including a team silver in Sydney 2000, European team gold in 2001 and 2003 and World team bronze in 2002. Leslie has coached some of America's top young riders and has had many adult amateurs in the top placings at the American Eventing Championships

More about Leslie

Steuart Pittman

Steuart is based at Dodon Farm in Davidsonville, MD where he competes his stallion Salute the Truth at Advanced level. He also trains and shows many young horses at the lower levels. He is a very popular clinician, both locally and nationally, at small barns and at large venues such as the Maryland Horse World Expo. His rates are reasonable, and his style is both effective and entertaining and he enjoys teaching all ages in all disciplines.

More about Steuart

Don Sachey

Don represented the United States as a member of the USET in international competition. He was a team gold medalist at the WEG in Burghley in 1974. As a coach, he has trained Olympic level riders around the world. He is USEA certified at ICP Level IV and as ICP Faculty. He has extensive experience with Pony Club as an "A" clinician and National Rally judge. As a USEF certified course designer, Don has designed facilities and event courses around the world.