Eric Smiley Eventing Clinic

October 15-17, 2021 (3 Days!)

Eric Smiley:
Olympian, World Equestrian Games and European Championships Rider for Ireland. BHS Fellow instructor certified!!!
<![if !supportLineBreakNewLine]>
<![endif]>

One of Area VII's favorite eventing coaches is returning to Washington State!! This time Eric Smiley is coming back to the Dry Side of Washington State to conduct an eventing clinic on great footing at Tulipsprings! We had great fun and lots of learning with Eric in the last few years and we are excited to have him return again this year!!

Eric has a fun and engaging style of instruction, backed by all the "Serious Credentials". He has represented Ireland on the international stage, including the European Championships, the World Equestrian Games, and the Olympics. He brought home the medals!! Eric keeps his skills and knowledge up to date by continuing to compete at the Intermediate level

Eric takes riding and teaching very seriously. In 1995, he earned the Fellowship of the British Horse Society credentials, making him one of only 59 in the world with this highest level of teaching qualification. He brings this unique combination of education and riding experience to riders of all levels. Maybe that's why he is one of our favorites!

Come to join the fun and learning with Eric!



Eric's clinic is open to all ages and all levels. So come over to the Dry Side and learn from one of the best!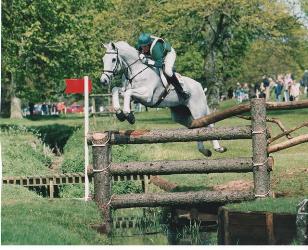 Eric Smiley on Course
DATES
Clinic Dates: October 15-17, 2021

Entries Open: Now

Refund deadline date: Sept 12, 2021
(If confirmed in writing to Tulipsprings)
---
Eventing Clinic
Levels available: All Levels
Prerequisites for each level:
To ride at a level, horse and rider must have some experience schooling cross country at that level. This is to assure that the groups are compatible and that everyone has a positive experience. Please indicate on your entry form if you are ready to move up or inclined to move down a level, in case that is necessary to form groups.
Group size: 4-5 riders per group
Ride times: 1.5 - 2 hours per day for 3 days (Dressage sessions will be shorter)
Exact times and groups to be posted at www.tulipsprings.com a few days before the clinic, and riders will be emailed. Ride times will be shorter or longer depending on group size.
Cost:


Three Day Clinic: $395 including stabling

(Add $25 total to reserve an indoor stall for entire clinic)
No extra charges for extra nights stabling if needed before or after your ride dates.
Auditors $20/day
Dogs $50/three day clinic
Format:
The first day will be small group dressage lessons. The second day will be stadium jumping on turf. Third day will be cross country. Cross country obstacles include full courses through Prelim, plus several Intermediate efforts. All the standard fun is represented: water, ditches, banks, coffins, corners, etc. We have Novice level trakehners, corners, and wedges. We also have an increasing collection of Baby Novice fences built like their Big Sisters (Roll tops, coops, etc). Plus: The Atomic Pit for extra texture!! And there is something new under the trees...It's kinda scary...
Local Accommodations:
On site camping (no hookups) or (10 min.) Clover Island Inn (509) 586-0541 (Say you are with Tulipsprings for a discount)


Contact: Carol Curry
(509) 521-1100