Leslie Law Eventing Clinic
October 25-26, 2014
Leslie Law:
Olympic Gold Medalist, European Champion, WEG Bronze Medal. Short List for US Olympic Coach
We are very excited to have Leslie return to Kennewick!!!

Leslie is the Athens Olympics Three Day Eventing individual champion and team silver medalist. In the Three Day Event he performed a personal best in the dressage with a score of 43.2 and following an uncomfortable moment at the water jump went on to complete a clean cross country round with only 1.2 time penalties. In the final phase Leslie rode a clear show jumping round to help secure team silver. Law then went on to jump a second clear round for individual honors; this performance, one of only two double clears, elevated Law from fifth place to Olympic Champion.

Known for his consistency, Law has a string of successes including a team silver in Sydney 2000, European team gold in 2001 and 2003 and World team bronze in 2002. Shear L'Eau, who he rode into gold medal position in Athens is full brother to Shear H20 who was his Olympic mount in Sydney 2000.


Leslie's clinic is open to all ages and all levels. So come over to the Dry Side and learn from a great instructor!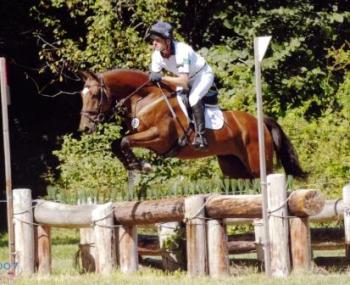 Leslie Law
DATES
Clinic: October 25-26, 2014

Dressage Lessons: by request (check with organizer)

Entries Open: August 25, 2014

Refund deadline date: Sept 24, 2014
(If confirmed in writing to Tulipsprings)
---
Eventing Clinic
Levels available: All Levels
Prerequisites for each level:
To ride at a level, horse and rider must have some experience schooling cross country at that level. This is to assure that the groups are compatible and that everyone has a positive experience. Please indicate on your entry form if you are ready to move up or inclined to move down a level, in case that is necessary to form groups.
Group size: 4-5 riders per group
Ride times: 1.5 - 2 hours per day for 2 days
(Exact times and groups to be posted at www.tulipsprings.com a few days before the clinic, and riders will be emailed.) Ride times will be shorter or longer depending on group size.
Cost:

$395 including stabling
Auditors $20/day
Dogs $50/weekend
Format:
Saturday will be stadium jumping on turf. Sunday will be cross country. Cross country obstacles include full courses through Prelim, plus several Intermediate efforts. All the standard fun is represented: water, ditches, banks, coffins, corners, etc. And : The Atomic Pit!!
Local Accommodations:
On site camping (no hookups) or (10 min.) Clover Island Inn (509) 586-0541
Download the entry: Leslie Law Clinic Entry Form and the TulipSprings Release

Contact: Carol Curry
(509) 521-1100